Revealing Relationships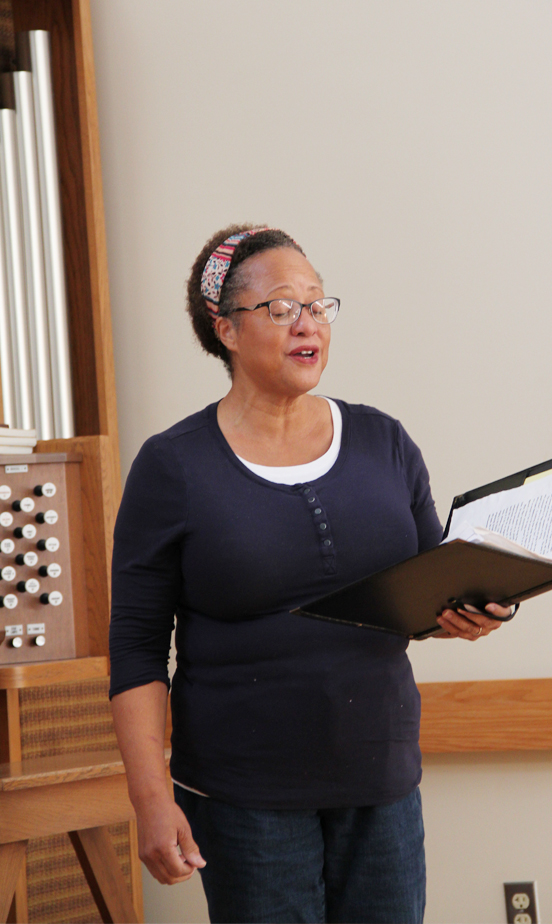 Grace sharing her gift of singing during
one of our weekly chapel services.
Bach Choir auditions brought Grace to the Lehigh Valley from Washington NJ twenty years ago. The equity actress and singer, who had toured the country for several years hoping for a break, was now expecting her first child. So she left the theater and took a job as a soloist and cantor in a church, a job that she could work around caring for her newborn daughter. She sang in church. She sang Bach cantatas. She sang to her newborn daughter and life was good. 
Then the diagnosis came. Her newborn had health challenges that would require cardiac surgery as a 4-year-old. Life became a constant stream of hospital stays and doctor visits. And Grace began a decades-long argument with God. Nothing she heard in the hymns, liturgy or preaching of the church helped her make sense of what she saw and experienced in the pediatric ICU. 
Over the years caring for her sick child, Grace learned various home care and nursing skills which developed into an LPN certificate and eventually employment as a visiting nurse with Lehigh Valley Health Network. As she cared for her patients, she learned to value their stories and the relationship that built between them. "In talking with elderly, homebound folks, there is more going on than simply a disease process," Grace observes. "There's an underlying cultural dynamic of isolation. Often there is a need not only to do treatment but to validate their life and worth."  Grace was beginning to hear a call to a caring ministry that went beyond medical procedures. But it would be two more years before she could put language to that calling. It came through a radio ad on WDIY announcing Moravian Seminary's new Chaplaincy degree.
Grace is now in her second semester of the Masters of Arts in Chaplaincy program. "Seminary classes have given me a way to explain what I felt was missing in all my early experience with the church. It's all about relationships. It is not about what I can offer to people. I am a portal—an opportunity to allow others to tell what is important and of concern to them. And in the midst of that sharing, there is healing. And all of that comes from God and is surrounded by God."
Among the things that she is currently thankful for, Grace observes, "I can go to school and only have to work part-time because of the financial support that many have given over the years. Because of the scholarship funds, I have been given this terrific opportunity to pursue God's calling in my life."
Look for Grace playing the tuba or trombone at Central Moravian Church, or in her Visiting Nurse uniform, or as the harpist playing for patients at the St. Luke's Hospice faculty in Bethlehem. And soon, look for Chaplain Grace.