Crossroads Graduation 2019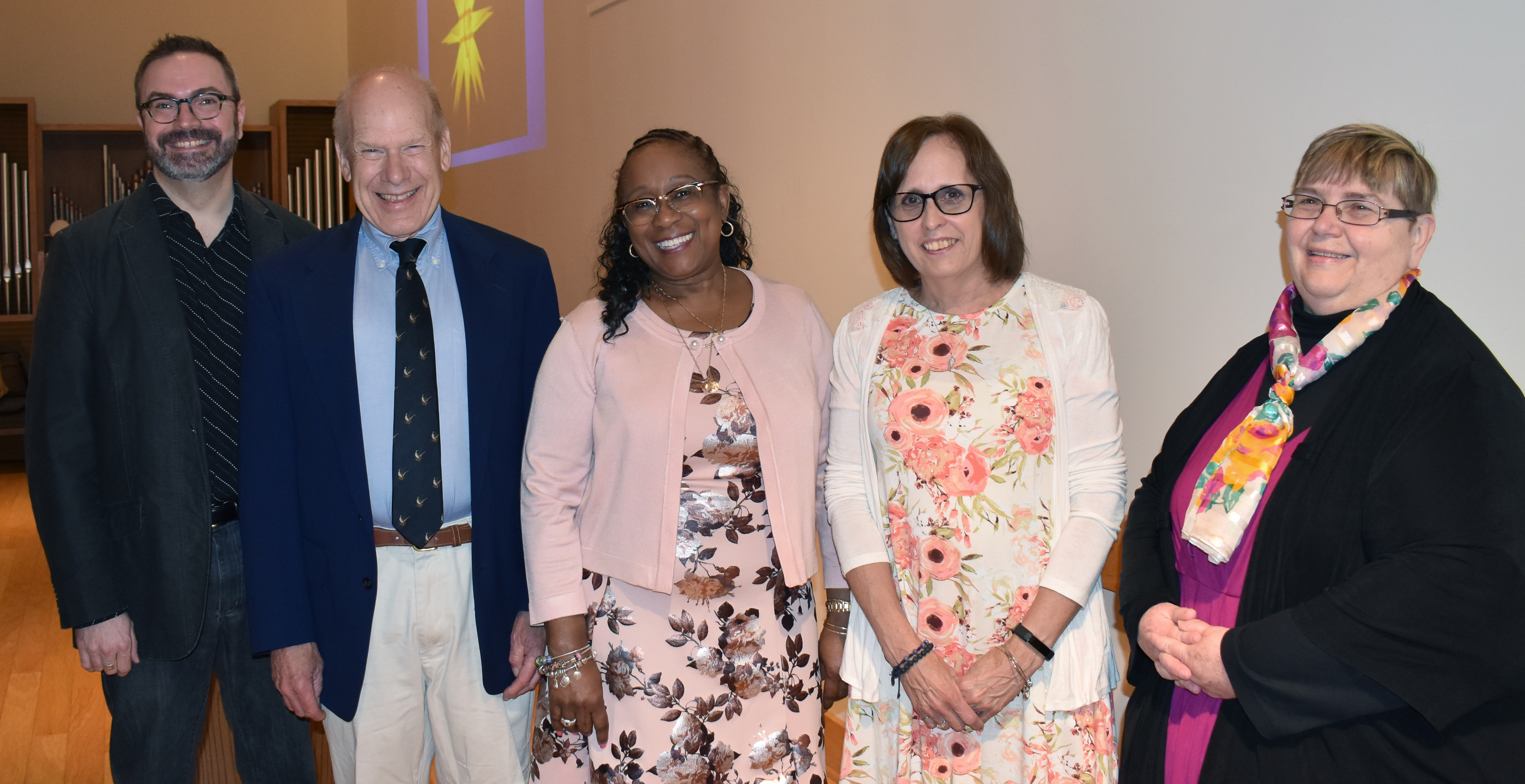 L to R: Mark Wonsidler, Will Kratz, Blondel Jones Grant, Donna Lee, June Heyer
Our graduates participated in and ran the entire service. Each graduate was encouraged to share a few minutes about their journey through Crossroads. Graduate Donna Lee warmly greeted everyone and led us in an opening prayer. She shared about how she was able to stick with the courses with readings and assignments and is thrilled to have made it through. Our opening hymn was I, the Lord of Sea and Sky and during the chorus, the past graduating classes were featured on the screen.
Next was graduate Mark Wonsidler who wrote a beautiful original litany that touched on so many of the learnings from Crossroads. Graduate Will Kratz served as our MC and introduced the Rev. Dr. Steve Simmons who delivered our featured Instructor Address. Steve was instrumental in launching Crossroads while he was the Director of Continuing Education at Moravian Theological Seminary. He challenged us all with regard to changes in church today entitled "A Meltdown or a Smelter?" His text was 2 Corinthians 4:6-9.
Next, Dr. Jill Peters presented each graduate with their Certificate of Completion from the program and an official Crossroads bag. She also spent a few minutes talking about one of her favorite subjects: Fractals, the repeating patterns found in nature and organizations and challenged the graduates to go out and become generative fractals in their ministries. Jill also shared some candid photos of the graduates from over the years.
Will Kratz continued with introducing our graduate speaker, Blondel Jones Grant and reading her scripture selection of 2 Timothy 1:6-7. Blondel's message was "Stirring the Embers of Our Call." She did a great job of continuing the theme of answering our call that was throughout the morning. Steve Simmons led the communion portion of our service and we used Shirley Erena Murray's "For Everyone Born" as our communion hymn.
Our sending hymn was "When We Lift Our Pack and Go" which was followed by our closing prayer and benediction by graduate June Heyer. Her personal testimony and thoughtful words sent us on our way.